We people graduate from University, or Business School, they aren't done learning, quite the opposite: We are just starting to learn what our jobs will be for the years to come. Technology has changed everything: sometimes, graduates will apply to a job description that did not exist at the time they started university.
Online Education is a unique opportunity to go above and beyond normal learning experiences, and become a real specialist in what you do. In 2011, I was looking to learn more about Gamification. The topic wasn't so popular at the time, so I looked it up a bit further, and found lectures notes from The Wharton School, great stuff!
I was about to post this article when I saw the cover of Forbes Magazine (picture below). It appears that we've picked the same topic!
Online education is going strong! Sure, it has been around for a few years, but a few indicators seems to be pointing towards an acceleration of the model for 2013. "The Tech", MIT's oldest/largest newspaper, wrote a nice article that sums up what's happening. Here's a "digest" of online education key players:
– Khan Academy, funded by Bill Gates and Google, started in September 2008. They offer over 400 million interactive problems to an audience of 6 millions unique monthly users. Students gain badges through achievements and connect on forums. Here's Sal Khan, on the cover of Forbes' Magazine (Nov. 2012).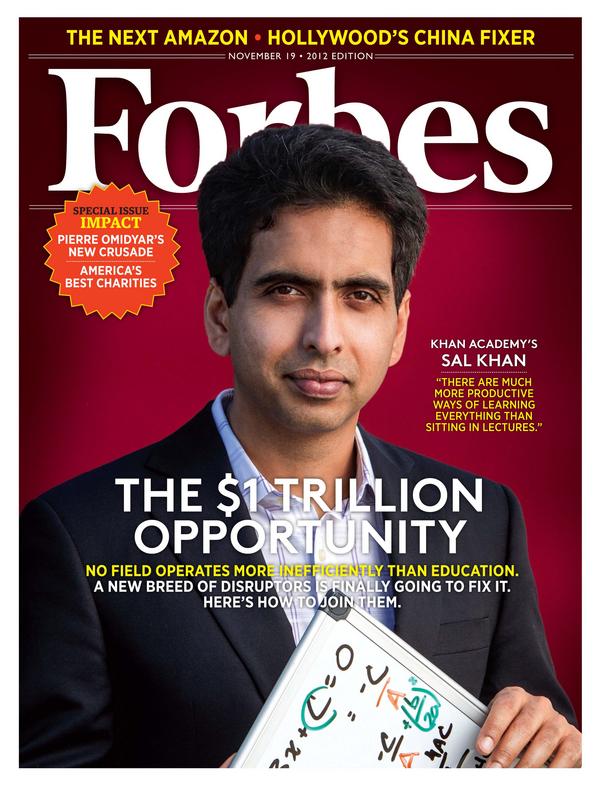 – Udacity started in 2011, and currently has 112,000 "active" students and instructors from 190 countries. Courses can be completed at your own pace, students can pay a fee to take a proctored exam. Udacity also aims to connecting its students with technology companies, as potential employees.
– Coursera originated at Stanford, gathering over 680,000 students enrolled in over 100 courses. Premium services are offered, such as personalized tuition.
– EdX is a university-funded project, kicked-off by MITx, joined by HarvardX (committing $30 million each) Over 150,000 users signed up for MIT's first online class, and slightly over 7,000 passed the course and earned a certificate: "Courses and certifications are currently free, but edX has plans to begin charging for more robust types of certification in the future."
Few comments on this:
Competition: With an unsettled job market, more candidates fight over fewer positions. Universities (along with companies) will source talents wherever they are, which is not always through their traditional application process. If the best PhD candidates are in Burma, they should still be able to benefit from online education.
Transparency of information: Information is already out there, and universities are now playing catch up. Remember lecture notes from Peter Thiel's lecture at Stanford, that a student made available to all. Start-ups such as Unishared let students share lecture notes: Services such as Google Docs are designed for collaboration, 72 of the top 100 American universities use it.
Universities are too expen$ive: In 2012, US Colleges rose tuition 4.8%, outpacing inflation: alternatives funding models are developing, like Upstart "lets you raise money in exchange for a small share of your income for 10 years" (founded by ex-Google Enterprise VP, Dave Girouard). We could also consider a Kickstarter-style way to wave tuition fees. Ivy league universities often have Scholars/Fellows: Why wouldn't they open some slots that would be attributed according to experts/professionals' votes?
Many different players are lining up, students are Gen-Y individuals and seem interested, how will universities and companies adapt to this trend in 2013?
PS: Hey, in case you were wondering why Georges Lucas sold the Star Wars franchise to Mickey Mouse & cie, some sources say that most of the $4.1b will go to… educational philanthropy!
-Rodolphe (initially published on dutel.fr)